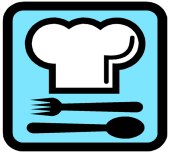 Port SEPTA Presents Creative Chefs. An enrichment program and life skills class for tweens (grades 6-7-8-9).
Come and have fun while learning about shopping for, preparing and eating healthy meals.
This program is geared towards helping tweens who learn differently to become more self-sufficient and develop life skills to make healthy choices both at home, shopping, and in restaurants. Besides hands-on preparation in the kitchen, we will also emphasize socialization skills.
Session Information
7 week sessions (Fall and Winter) held at the Cooking Lab at Sousa Elementary School at 101 Sands Point Road
Tuesdays 6-7:45 pm
Class size is limited to 12 students
Fee: email for information
Session Dates 2019-20
**THIS PROGRAM IS NO LONGER ACTIVE. IF YOU ARE INTERESTED IN STARTING IT UP AGAIN, PLEASE EMAIL PORTSEPTA@AOL.COM!

Registration
Please email septacreativechefs@gmail.com for information. fees and registration.
This program is partially funded by a generous grant from The Community Chest of Port Washington.